Off-Campus Housing
Athens, GA, home of The University of Georgia, has some of the best off-campus housing options in the Southeast. There are several different neighborhoods in Athens, but the most common for UGA students include Normaltown, Downtown, Five Points, and Chicopee-Dudley. Each of these neighborhoods has a different feel, and the types of housing cater to a unique lifestyle. When searching for apartments, your budget will also determine which locations are more appropriate. These neighborhoods are close enough to the University of Georgia that Athens Transit will have a few stops close by and some apartments even offer a private shuttle to take students to The University of Georgia campus.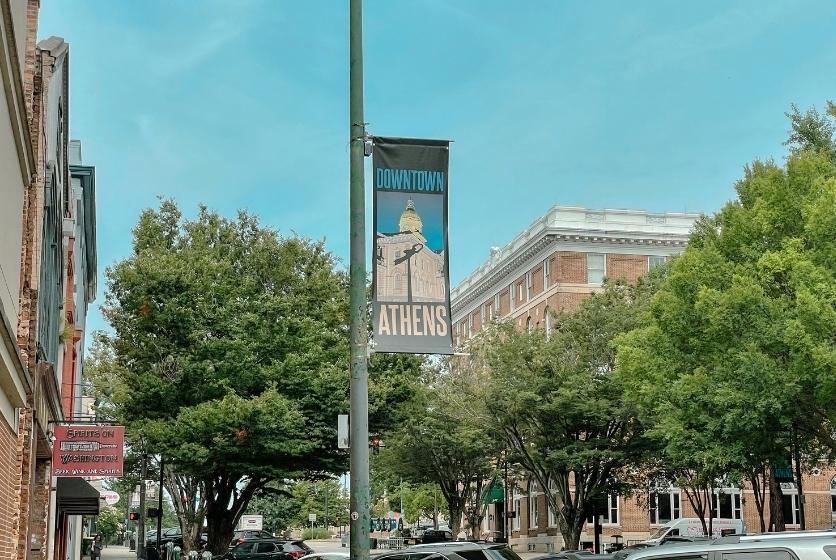 Getting to Know UGA
Transitioning from on-campus housing to off-campus housing gives students an opportunity for new experiences, more freedom, and the chance to get to know Athens on a larger scale than just UGA campus. As you settle into the off-campus experience, check out the ApartmentsForAthens UGA Student guide for more articles on apartment life and getting to know Athens. For even more resources, check out the Frequently Asked Athens Apartments Questions section. 
Location
Location is incredibly important while looking for an Athens apartment. Most UGA students want to be closer to the University of Georgia for a few reasons. Convenience is the biggest part, especially for class schedules. Apartments within walking distance or just a 5 minute bus ride away, can save students time on their morning commute and make using campus amenities like the library or gym easy. Additionally, for school events like football games, living walking distance to Sanford Stadium means you'll be able to enjoy game day even more. 
Another factor at play with location is parking! UGA Parking is notoriously difficult and getting a spot to park is hard for a commuter. With this in mind, it is best to choose an apartment with the assumption that you won't be given a commuter parking spot. For this reason, apartment communities within a walkable distance to UGA can be more desirable to students and will have noticeably higher rent prices. Check out how to get a parking spot at UGA for more information.
Popular UGA Student Neighborhoods
Now that you know to consider factors such as budget, location, and parking, here is the lineup of popular UGA student neighborhoods to choose from:
Normaltown

is centered around Prince Avenue, close to downtown Athens, and at most a twenty-minute walk to UGA. In this neighborhood, you will find a mix of houses and smaller apartment complexes for a more relaxed, home-style environment.

Downtown Athens

is the closest neighborhood to UGA and has lots of luxury-style apartment high rises for students. With this said, it is also the most expensive area to live in. Most apartments downtown are within a fifteen-minute walk of UGA's campus. 

Five Points

is a neighborhood with a lot of character. There are several cafes, boutiques, and restaurants nearby including Athens' favorite, Cali N Tito's. Five Points is the intersection of a lot of UGA-centered roads, so this is also a great area for UGA students. There are several larger apartment complexes with decent prices, not as expensive as Downtown, but also not the cheapest. 

Chicopee-Dudley

is ideal for the UGA students who love to be outdoors and active. This neighborhood runs along the North Oconee River Greenway, so there are lots of opportunities for biking or running along the river. While not the most popular place for students to live, it is still a great option, especially with generally lower apartment rental rates than neighborhoods that border UGA campus.

Southeast Athens

is slightly out of the city, but still with everything you need nearby. Lots of students choose to live in one of the many apartment complexes right off of Barnett Shoals Road for affordability and comfort. The location is conveniently a 5-minute drive to Publix and Kroger as well as some restaurants like La Parilla, Zaxby's, Chick Fil A, and there's even a Jittery Joes. It's also about a 10-minute drive to Walmart as well. UGA is a 10 minute drive or Athens Transit ride away.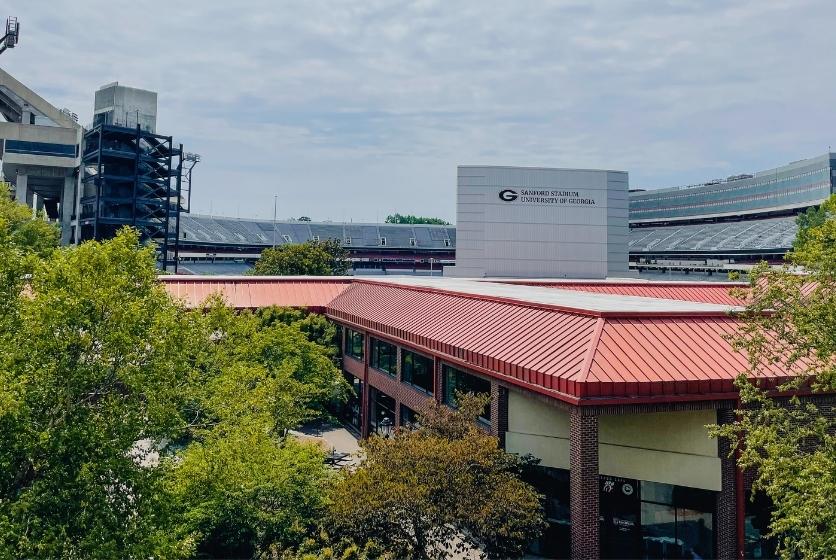 Undergraduate Housing for UGA Students
Athens has a lot of options for undergraduate housing, with a range of prices and locations. Athens apartment hunting for the fall semester can start as early as December, so most UGA students start thinking about roommates and where they want to live by January. Narrowing down the important things a student wants for an undergraduate apartment will help the process go smoother. A few things to take into consideration when apartment hunting are the location, parking, and amenities.
Location
Location can be the biggest component for a lot of UGA students. While Athens is not a large city, it has several neighborhoods and some are walkable to UGA, while others are not. Downtown Athens is the closest to UGA, but there is a price increase associated with the location. Several apartments that are farther away from UGA have a shuttle to take UGA students to campus. This is especially popular for apartment communities targeted toward students. 
While most students that live in apartments do have a car, it is notoriously difficult to get a parking spot on campus, which is why so many apartment communities have some form of transportation. Another option is Athens Transit, which is the local bus system. UGA has a bus system as well, however it does not travel far outside of campus. Athens Transit, however, has stops at student housing communities all around Athens, especially on popular roads like Atlanta Highway, Barnett Shoals, and apartments on Milledge Avenue. If an apartment community doesn't have a shuttle to campus, there is likely to be an Athens Transit or UGA bus stop close by. Ask the apartment leasing team for information on what public transportation options are nearby. 
Parking
Most Athens apartment buildings will have an area for students to park their cars. High-rise buildings downtown typically have a parking garage underneath the building or one close by reserved for residents. Apartments that are not downtown will most likely have a more traditional parking lot. The price of parking depends on the apartment community. For some, parking is free, while others might have a small fee. There is occasionally an option for covered parking that costs money, with normal spots as well.
Must-Have Amenities For Undergraduate UGA Apartments
Study Room -

A huge benefit of living in a student apartment is that they're made for the college lifestyle. When it comes to exam season, UGA libraries are packed and a good student spot is more valuable. Many Athens apartments have study rooms or a clubhouse designed to give students a quiet place to grind.
Swimming Pool - High-rise apartments near UGA most likely have rooftop, "resort-style" pools which are great for hanging out with friends. Other apartment communities have a more traditional style pool with plenty of lounge chairs and even an outdoor grill. It just depends on the area in Athens and the style of living that is offered. Georgia has great weather and this is a perfect inexpensive way to enjoy it!
Included in Rent - Apartments in Athens can lump various additions into your monthly rent. All-inclusive apartments include your rent, water, electricity, and trash in one payment. Another option is to find a furnished apartment to make move-in day easy. These will typically come with a couch, coffee table, bed, dresser, and more.
Fitness Center - Many students go on a fitness journey while in college, whether that means getting in shape or finding a stress reliever from class. It is super convenient to have a UGA apartment with a fitness center. When you don't want to go to the gym, having one steps from your home is more convincing.
Package Lockers - Another important amenity to think about is mail and packages. Some apartments have Amazon lockers, which is a secure package system that doesn't require residents to go to the office for packages. This way porch pirates aren't a concern and Amazon packages can flow freely.
Pet-friendly - Students also should check to see if apartments are pet friendly if they plan on bringing a furry friend. Having a pet while at UGA can be helpful with students who struggle with their mental health or anyone who's looking for companionship. Apartments do have weight and breed restrictions so be sure to check with the leasing team before signing a lease. Whether you're bringing a pet to school or considering adoption, see a map list of pet-friendly apartments near UGA.
Finding Roommates 
Living in a UGA off campus can add to the college experience and lay the groundwork for great relationships and memories. While living alone in a 1 bedroom apartment may be intriguing to some, sharing a space can save on expenses and teach valuable lessons about compromise.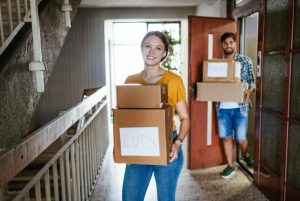 Benefits of Living with Roommates
Whether you're sharing a 2-bedroom apartment or 4-bedroom apartment, having a roommate can be a positive. The benefit you may appreciate most, is having someone to share expenses with. A lot of college students are tight on money and the more roommates you have, the cheaper your monthly bills will be. If sticking to a budget is at the top of your mind, choose a floor plan with multiple roommates, like a 3-bedroom apartment. 
Roommates also can be great for sharing chores and picking up household necessities. However, to reap these benefits, there must be strong communication and expectations established so that everyone is sharing responsibilities. If you're lucky you can have three built-in friends to explore Athens with. Having all your buddies in one home means people to watch TV with, get ready for gameday with, and to relax by the pool with.    
Live With A Friend 
There are many ways to find a fellow Bulldog roommate, the first being to see if any friends want to live together. While this can create a sibling-like bond, it can also be a real test for a relationship. Think about the lifestyle of your friend(s). Ask questions like, do they clean up after themselves? Are they night owls or early risers? Do you have similar values? Decide whether you think you all could mitigate conflict together. Just be sure that you are both a good fit as friends and as roommates before you sign a lease together. 
Search the Web
If you're looking for a clean slate or just want to briefly get to know someone before moving in, try searching through the internet. Roomsurf is like social media for roommates. You can search through thousands of UGA profiles and find someone who matches your lifestyle. Profiles include hobbies, preferred type of living, floor plan preferences, majors, and more. Facebook is another great place to search with pages like:
If you don't have someone in mind and prefer not to find them yourself online, apartments that offer roommate matching can make this process easy. Pick out the floor plan you desire and then fill out a questionnaire designed to match roommates based on lifestyle preferences. For example, you'll be asked about your sleep schedule, study habits, cleanliness, and more. You'll be paired with someone similar and may even find a new friend!