Student Transportation Guide
For incoming University of Georgia students and parents, there is no doubt that transportation is a top-of-mind concern. A solid mode of transportation or lack thereof can easily make or break a college experience. Fortunately, transportation in Athens has only improved over the years, and there is currently a broad selection of transit options–many of which seek to accommodate UGA students. Keep reading this article to find out everything that is necessary to know about transportation to and from UGA student apartments.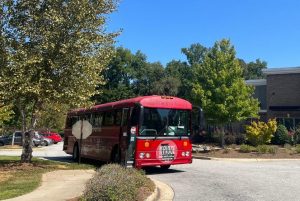 Walking
Aside from the buses, walking may be one of the fastest ways to get to class at The University of Georgia. UGA's campus is full of many sidewalks and pathways that make walking a very accessible mode of transport. Walking to class is also possible for off-campus students living in Downtown Athens as it is directly across the street from North Campus. Students can use ApartmentsForAthens to find suitable off-campus apartment listings in the Downtown area, amongst several other areas in Athens. For incoming students trying to navigate through campus for the first time, we highly recommend downloading the UGA App for the helpful "Map & Directions" feature that can help guide students to their destinations. Walking to campus is the most immersive to the UGA experience, plus it will keep you active!
Driving
For students that are planning to commute to campus, it is important to note that most students will park their car in a designated parking deck and either walk or bus to their classes throughout the day. While this may seem like the quickest option, keep in mind that there are obstacles that may get in the way. Both on-campus and greater Athens area traffic can get particularly dense in the early afternoon on weekdays and on game day Saturdays, especially around Broad and Lumpkin Street Downtown. Commuter students should keep this in mind when building their class schedule. 
Parking
Finding decent parking in Downtown Athens or at UGA can be a hassle. There are 19,000 parking spaces that are managed on campus, but around 30,000 drivers that need to be accommodated daily. Because of this, it is highly advisable for UGA students to apply for a parking permit as early as possible. Parking registration for fall semesters typically open in the spring. Permits are granted through a priority system and students are not guaranteed a certain parking lot or deck. If a student does not secure a parking permit, there are a limited number of pay-by-the-hour parking options on campus. Students can check the parking space availability of these hourly payment lots through the new "Deck Check'' feature on the UGA App.
Downtown Athens is one of the busiest parts of Athens and, therefore, another area where it can be difficult to find parking. Metered parking is available and monitored 8:00 a.m. to 10:00 p.m. Monday through Saturday. The hourly rate is $1.50. There is also a small assortment of parking decks available Downtown, including the Washington Street and College Avenue decks–which both offer free parking for the first thirty minutes, and an hourly rate of $1.00 after that. You can get to know your parking options Downtown by checking out the Downtown parking map.
UGA Bus System
Second to MARTA, the UGA bus system stands as the one of the best public transit systems in Georgia regarding ridership and fleet–which consists of 60 diesel and 30 electric buses–and is also regarded as one of the best University transit systems in the United States. It is completely fare-free and services 7 days a week. The weekday bus runs from 6:30 a.m. to 7:45 p.m. on weekdays. Special routes for the nighttime and weekend run 7:00 p.m. to 1:00 a.m. Monday through Wednesday and 7:00 p.m. to 3:00 a.m. Thursday through Saturday. Although this transit system only operates within the vicinity of the campus, it is one of the fastest modes of transportation at UGA and makes every corner of the University reachable with over 15 different bus routes; live maps of these bus routes and their arrival times can be accessed through the UGA Campus Transit website and UGA App.
Athens Transit System
Athens-Clarke County transit is currently fare-free for the entirety of the Athens community. There are about 30 different bus routes and operation hours are from 6:00 a.m. to 9:45 p.m. Monday through Friday, and 7:00 a.m. to 11:00 p.m. Saturday and Sunday. ACC transit stops are plentiful and scattered all throughout Athens-Clarke County. In fact, many of the Athens Transit bus stops are available near and throughout several off-campus student apartment communities in Athens. Additionally, some of them offer their own private shuttles to campus–another transportation option for UGA students. Athens Transit buses and their respective routes can be tracked through myStop. 
Bicycles, Motorcycles, and Mopeds
In Athens, persons operating bicycles, motorcycles, and mopeds are subject to the same laws that Georgia drivers are. For those riding bicycles, there are several free bike racks throughout the UGA campus, and students can locate them by using the UGA App. In addition, many UGA buses also have bicycle racks at the front. Those operating motorcycles and mopeds do have parking options in several of the UGA lots, however, parking permits are required. UGA also offers free motorist assistance to permit holders on weekdays from 8:00 a.m. to 5:00 p.m. For information about the proper safety measures to take when operating 2-wheel vehicles on campus, refer to this 2 Wheel Vehicle Safety article on the UGA police website.
Scooters
As of October 2020, UGA has banned the use of Bike Share and Bird scooters on campus. However, personal E-bikes and standing scooters are allowed and can also be parked at bike racks for free.
UGA Ride Smart (Lyft)
UGA Ride Smart is a rideshare program and partnership with Lyft that offers students daily discounted rides from 10:00 p.m. to 6:00 a.m. Rides are only offered within the designated service area, which includes anywhere in Athens-Clarke County.
Uber
If you're looking for a quick ride to Downtown or just don't want to worry about parking, download the Uber app and a driver will be with you in no time. Ubers are plentiful in Athens, so you can find a driver quickly if you're out late or need to get somewhere in a hurry. 
Paratransit
For mobility impaired UGA community members and students, paratransit van services are available. Paratransit offers both regularly scheduled and on-demand service. For the fall and spring semesters, service runs from 7:00 a.m. to 7:00 p.m. Monday through Friday, in addition to late-night on-call service. On-call service is also offered from 10:00 a.m. to 3:00 a.m. on Saturday and 12:00 p.m. to 9:00 p.m. on Sunday.