Parking around Downtown Athens and the University of Georgia can be scarce and hard to find even when it isn't Dawg game day. Some students choose apartments near UGA that are downtown, so that they can walk to class to avoid having to get caught in all the traffic. Living downtown can get pricey, so this is not an option for every student. If you are planning on living away from downtown, you are not out of luck. Many apartment communities have personal buses that shuttle students to and from class and some have night buses for trips downtown.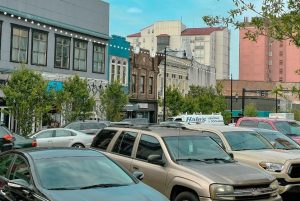 Apartments with Parking Included
Looking for an apartment with parking included is a good option to save money and guarantee you have a place to keep your vehicle. Downtown Athens Apartments even have some parking garages that are included in the rent which are a great help with how hard it is to find spots downtown. Apartment locations farther from campus typically include parking in the rent since they have more parking spots for residents, which can be a nice money-saving perk for those who choose to live a bit farther from campus.
Parking on Game Days
Athens game day is the most hectic time for driving and parking anywhere near UGA campus. People often sell parking spots in lots with signs saying you can park for between 30-75 dollars. If you are planning on coming for a Game Day and parking your car, be sure to show up earlier to have adequate time to find a spot. The Classic Center Parking deck offers parking for a fee and is conveniently located on Broad Street very close to Sanford Stadium. To avoid traffic parking in the East Campus Parking Deck is always a good idea on busy game days. To plan your visit check out UGA parking rates.
UGA Parking Passes
UGA assigns parking through a priority system. After reviewing the priority system you need to select 5 lots based on your preferences at UGA's parking site. After completing this process the permit will need to be accepted through your email. Registration begins in Spring for the following fall. Cost of the permit depends on the lot you selected.
UGA Visitor Parking
The University of Georgia has 6 parking decks and multiple lots that offer paid visitor parking on campus. These can be used by visitors coming for a quick visit to UGA, and for students who did not get a parking pass. Paying is simple through the ParkMobile app and pay stations located next to each parking garage. Put in your license plate into the ParkMobile app, add a valid card and set the duration for how long your vehicle will be there.